Sig Sauer Gun / Pistol Grips, Sig P938 Grips, Kirinite ® Black Mother of Pearl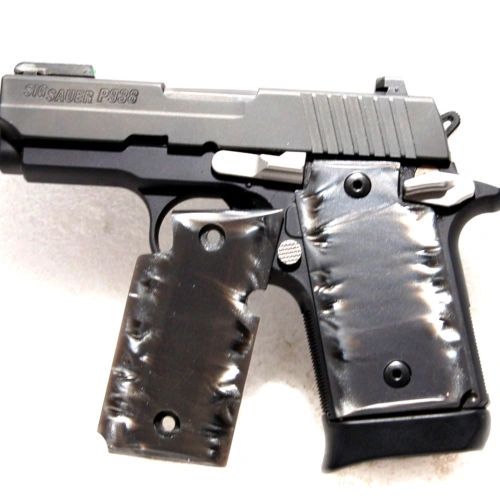 Sig Sauer Gun / Pistol Grips, Sig P938 Grips, Kirinite ® Black Mother of Pearl
Sig Sauer P938 Pistol Grips

Kirinite® is a sophisticated resin, renowned for its amazing colors, its toughness, and for its non-slip qualities even though it has a smooth surface. It is an extraordinary material and comes in a variety of beautiful swirling mother of pearl colors. Looks Awesome!


Pictures in this auction are Samples of the Grips so the grain or design may be different but the colors will be the same.
Only Fits Sig Sauer P938 Pistols
Laser Cut, Hand Shaped, Hand Sanded and Buffed
Made in the USA!
If you need some special cutout, etc. please add a note to your order and contact us.
Customization is Available. Just contact us.
Handgun Not Included In Auction
100% Guaranteed!
Please Don't Hesitate to Contact us With Any Questions or Concerns!
Reviews