1911 Officer/Compact Size Gun Grips Wood Cocobolo (3) Handmade Pistol Grip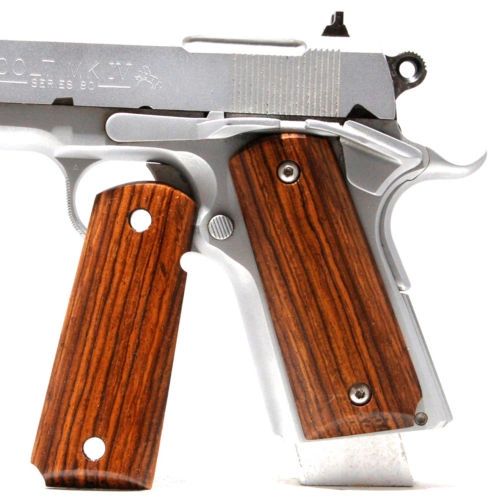 1911 Officer/Compact Size Gun Grips Wood Cocobolo (3) Handmade Pistol Grip
Compact/Officer Size Gun Grips for Standard 1911 Pistols

This Set of Grips is Made out of Solid Wood, Cocobolo. Really Pretty. Pictures don't do them Justice.
Fits Standard 1911 Compact/Officer Size Pistols
Colt, Ruger, Smith & Wesson, Kimber, Sig Sauer, Beretta, Government, Les Baer, Springfield.
If your weapon is not on this list Give us a Call but in General they Fit All Standard Size 1911's.
Laser Cut, Hand Shaped, Hand Sanded and Buffed
Made in the USA!
If you need ambidextrous safety, some special cutout, etc. please add a note to your order and contact us.
Customization is Available. Just contact us.
Handgun Not Included In Auction
100% Guaranteed!
Please Don't Hesitate to Contact us With Any Questions or Concerns!
Reviews